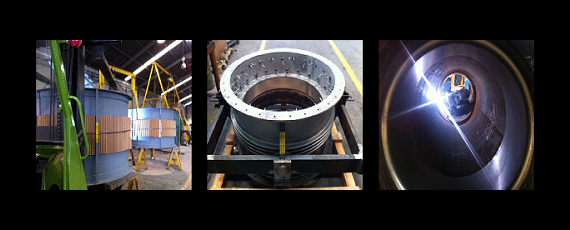 PisaFlex

is Mexico's premier manufacturer of metallic expansion joints and braided hose assemblies.

Our highly qualified team of sales associates, engineers, and technicians are dedicated to the manufacture of high quality products required by our customers. We manufacture expansion joints that meet EJMA and ASME standards. Our Metal Hose Assemblies have all been designed to meet or exceed ISO 10380 performance specification.
Our Production capabilities are:
Round Metal Expansion Joints – 3" Through 144" in Diameter with wall thickness from 11

Gauge

down to as thin as 31

Gauge

. We also make multi-ply bellow capsule for the severe vibration applications or pressure redundancy. For larger than standard diameter contact us.
Rectangular/Square Metal Expansion Joints – Any Length x Width dimensions as needed with wall thickness form 11

Gauge

down to as thin as 31

Gauge

.
Metal Hose Assemblies - We manufacture ¼" through 8" diameter hose and braid in house any larger sizes are made to order.
Our convenient location , just 135 miles from the USA border and 190 miles from the port of Brownsville, TX. 
Our exports  ships FOB Laredo, TX; so you do not have to worry about customs or duty  paperwork; PisaFlex will take care of all those issues, which make product delivery easy.